A port in the heart of Genoa with 280 berths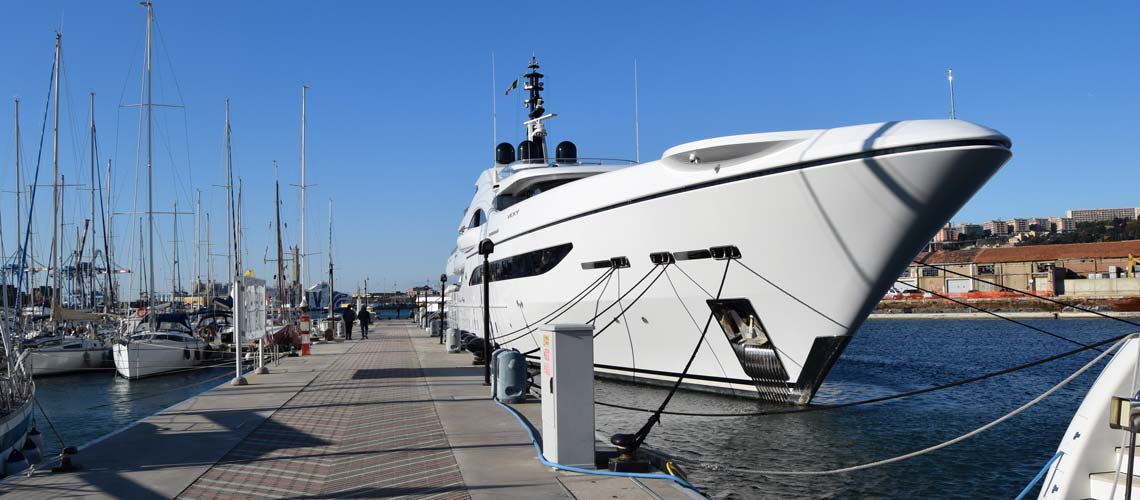 The touristic Marina Porto Antico comprises of 270 berths, between 10 and 75 meters long, with no suction problems, all made of concrete piers, wooden fenders, equipped with fuel pumps for water and electricity.
Inside the marina there is a characteristic and picturesque dock that can accommodate several boats from 5 to 7 meters where there are also often moored some beautiful Ligurian fishing boats and Genoese lutes, beautifully detailed by vessel owners proud of their origins.
An excellent berth in Genoa. The port management is taken care by the highest technical and qualitative standards and by a consistant maintenance of the piers and moorings, as well as the highest of professionalism , make the marina achieve a 5 star rating, as, recognized by many of our loyal customers.
The proximity to the metro station and to the bus stops make our moorings an ideal starting point for anyone visiting Genoa, enjoying a sailing holiday.
The marina is protected by the Port of Genoa breakwater and it is therefore a safe haven against any storm: our customers also thanks to the constant presence of our highly skilled and professional boatmen, can rest easy.
Around the Marina several buildings housing residences, offices and shops at platform level have been developed. The village in particular offers both to visitors and boaters, numerous services such as dry-cleaning, supermarket, beauty salon, ship Chandler, restaurants, bars and water agencies. The complex is located right in the heart of the Old Port of Genoa, near the Aquarium, which in recent years has been a magnet for numerous investments and settlements that have helped to further raise the quality of the area. Recently in the neighbouring building Millo Eataly took office, which with a strong leverage spirit, brought in Genoa the quality and tradition for their food products.
Simply crossing the street and in an instant you are projected in the city center, the historic and the modern one, with all it offers, from art galleries to nightclubs, from opera at the Carlo Felice theatre to the nightlife of the alleyways.
All the most modern services conceived for small touristic ports are available, provided on a quiet and tidy background where everything is correctly placed. Every detail is accurately studied and the attention paid by the people working for the complex guarantee a professional and skilled approach in every moment.
There is a special care in the relationship with the Users, who can always count on the presence on site of at least one person, 24 hours a day, 365 days a year (the overall number of operators employed in the Group of which Marina Porto Antico is part is over 30 units: the total transparency of our sales relationship makes the supplied service a true "all-inclusive" service.
Colonnine d'acqua/energia elettrica fino a 400A
Distributore ghiaccio gratuito
Impianto WiFi
Predisposizione ADSL e telefono sul pontile
Smaltimento batterie / olii esausti
Pulizia Pontili e ritiro rifiuti in banchina
Servizio antincendio in banchina
Servizi igienici e cabine doccia con spogliatoio privato
Distributire snack 24h
Illuminazione
Bar – Ristoranti – Supermercato
Responsabile del Porto: Anna
Responsabile ormeggiatori: Gabriele
Rapporti con la Clientela Estera: Sara
Ormeggiatori: Alessandro, Luca, Fabio, Riccardo, Vasili
Responsabili autosilos: Riccardo, Maurizio
Contabilità: Carla, Simona
Security: Giulio
Assistenza all'ormeggio
Ascolto VHF canale 74
Assistenza subacquea
Guardianaggio / Security
Navimeteo
Trasporto bagagli con auto elettrica
Deposito attrezzature
Parcheggio riservato
Rifornimento di carburante
Cantiere navale
Servizio di Conciergerie
In addition, inside the complex, you can find a supermarket, a ship chandler, a provider of systems to be installed on board, a dry cleaning, a tobacconist, a communication store, a bakery and several businesses as restaurants, bars and a pizzeria.
Marina Porto Antico is located on a strategic position, in the heart of the historic centre that holds the record of the biggest in Europe, only 5 Km from Genoa International Airport and with excellent road and highway connections, in the barycentre of the whole Mediterranean basin, near Portofino, Côte d'Azur, in front of Corsica and Sardinia.
Marina Porto Antico - The Harbor
Marina Porto Antico - The Park
Access channel to the East Mouth of the Port of Genoa through a corridor of 40 meters on the right when entering the port, intended for pleasure boats.
Maximum speed is 6 knots till Magazzini del Cotone building – Afterwards 3 knots
Access time: non-stop – Channel VHF 74
BY CAR:
Highway – exit toll gate West Genoa, within 10 minutes distance
SS1 Aurelia
Possibility of parking inside the park Marina Porto Antico – Salumi Wharf near the small port
BY TRAIN:
Railway Station of Genoa Piazza Principe within 10 minutes distance
Railway Station of Genoa Brignole within 15 minutes distance
Genoa International Airport Cristoforo Colombo.
By taxi in 20 minutes.